Don't get us wrong, the traditional and grand wedding cake is still a very popular, must-have at any wedding! But we've seen a trend lately of brides and grooms adding even more sweet treats to top off their nuptials. So, what wedding dessert ideas are topping our list of favorites? Let's dive on in – our sweet tooth can't wait any longer!
Warm Banana Pudding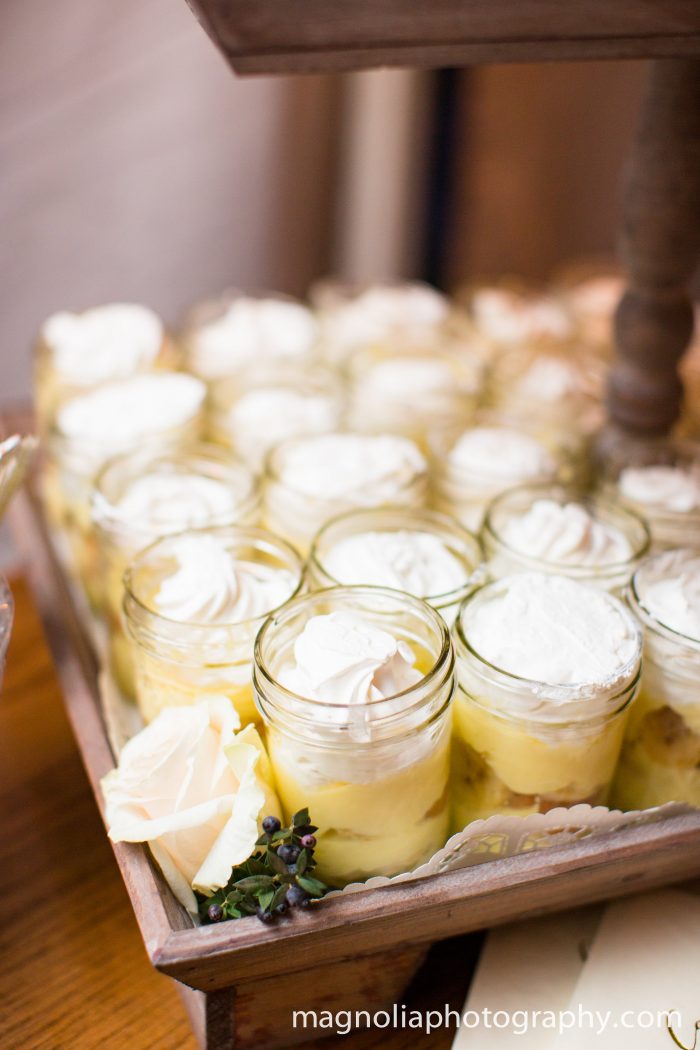 This is such a cute idea and sure to please anyone! Warm pudding, fresh bananas, sweet wafers and homemade meringue – our mouth is watering just thinking about it. We love to serve this sweet treat to guests in individual mason jars. This presentation makes them even more fun to eat!
S'mores Station & Crepe Station
Food stations are a fun and unique way to add excitement to your wedding dessert menu. The sky is the limit when it comes to creative ways to serve food at your reception. A create-your-own s'mores bar is a crowd-pleasing option any time of the year! Or another unique idea is a crepe station. Guests will love this! They can see their own crepe being made with options that include sweet cheese, chocolate or fruit filling like apple, peach and strawberry.
Covered Apple Bar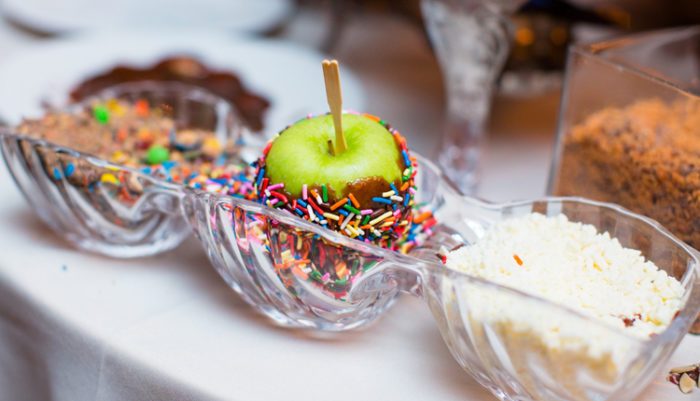 Another dessert station we love is a covered apple bar! This sweet treat can even serve as a take-home favor for guests. Set up a table with apples and toppings that people can choose from to create their own covered apples. White and milk chocolate, caramel, sprinkles, crushed candy bars, nuts and coconut are all popular choices.
Cookies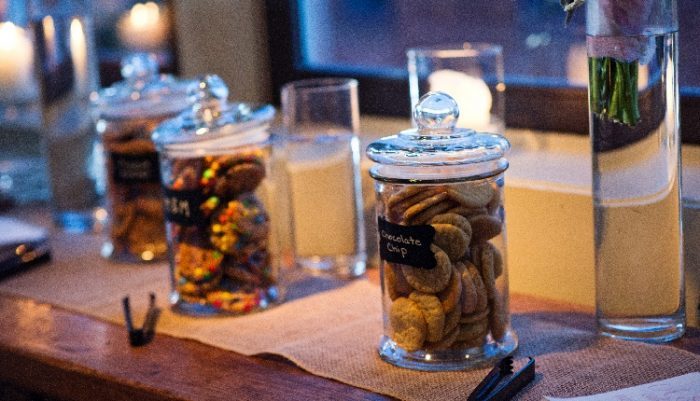 Cookies are also an excellent dessert to serve at your wedding! They are just the right size for grazing guests and easy to eat as folks make their way on and off the dance floor. With so many cookie recipes to choose from, this is a chance for couples to surprise guests with unique recipes or feature family favorites. Some of our favorites here at Scarborough Fare Catering are Molasses Spice, Chocolate Fudge, Cappuccino Crisps and Hazelnut Sandies. We don't expect you to be able to choose just one flavor, so we suggest a cookie buffet featuring many different options!
Milkshake Shooters
And speaking of cookies, we can't forget the milk! Another cute idea is to have delicious and boozy milkshake shooters passed out to guests as a late-night treat! Blended with ice cream, vodka and add-ins, and topped with whipped cream, who wouldn't be excited about this!
Pies and Pie Pops
Who doesn't love a good pie? With so many different pie recipes out there, this is the perfect way to surprise guests. Cute mini pies or little pie pops are perfect for any event, especially summer and fall weddings! And, since edible favors are popular choice at weddings, pie pops are adorable as favors or the perfect bite-sized snack.
Bourbon Crème Brulee

This dessert option is sure to impress. Served in individual ramekins, guests will feel special when they receive this delish treat! And, because it's a completely different texture and flavor-profile, there is no need to worry about it taking away from your wedding cake!
Looking for even more dessert ideas for your big day beyond the wedding cake? Let Scarborough Fare Catering help you out. Serving Raleigh to the coast, we know that the options are endless when it comes to your wedding catering. We are consistently adding to our menu, and love to help make couple's creative ideas come to life. After all, it is the personal and unique touches that really make your wedding day much more special!
Article Provided By: Allison Thomas
---