We all know that one of the main planning points for a wedding, or any event really, is the food! There is a lot to consider when planning your menu, and how to serve it. The time of day and venue of your event both play a part in helping you determine how you will feed your friends and family on your special day. A buffet, food stations and plated meal are all great options, each requiring different planning methods and details. Here is a little more about each –
Buffet
Having a buffet means that your guests will pick up their plate from their seat or at the beginning of the buffet line. The buffet will feature a few choices of protein, sides, bread and possibly a salad. But really, your options are endless (it is YOUR big day)! Guests will get all of their food at once and will go through lines to fill their plate. Something else to consider – if you have a large number of guests, you may want to create mirroring buffets or a double-sided buffet to allow for faster service, or call tables up a few at a time so that there isn't a large line crowding your reception space.
Summer Buffet Menu Examples:
Chipotle Marinated Flank Steak; Flame Roasted Barbeque Shrimp, Fresh corn, Heirloom Tomato, Pickled Onion, and Cotija Cheese Salad; Fresh Summer Salad and Assorted Pasta; Adobo Creamed Spinach; Tempura Vegetables with Comeback Sauce; Assorted Breads and Truffle Butter; Assorted Dessert Table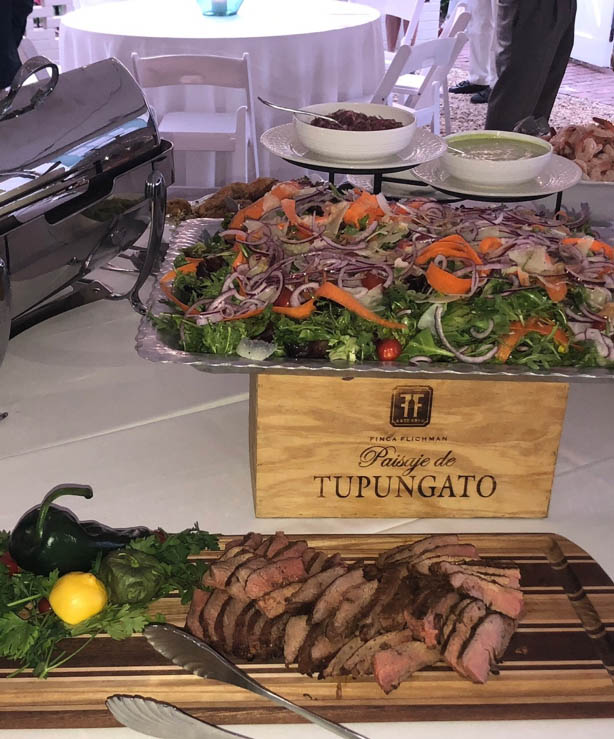 Chipotle Marinated Flank Steak
Food Stations
Think of food stations as a broken-up buffet. Or, think tapas! This type of meal station is perfect for couples who want a cocktail-style reception that encourages a more social dining experience. And a bonus – food stations provide a more relaxed dining experience for the guests, meaning you won't have to provide every guest with a seat. Food stations allow guests to roam around the reception space picking up small plates of food. Because food stations are set up at multiple locations within in the space, this can reduce lines and crowding too. Food stations allow guests to see their food in final stages of preparation and/or allow them to pick their own toppings for certain dishes.
Food Station Examples:
Carving Station; Active Pasta Station; Sushi Bar; Whole Chef-Attended Barbequed Hog; Shucked Oysters; Build-Your-Own Taco Bar; Build-Your-Own Loaded Potato Station; Artisan Cheese Table; Guinness Braised Short Ribs or Shrimp and Creamy Grits Station; Flamed Ignited Banana's Foster Station for Dessert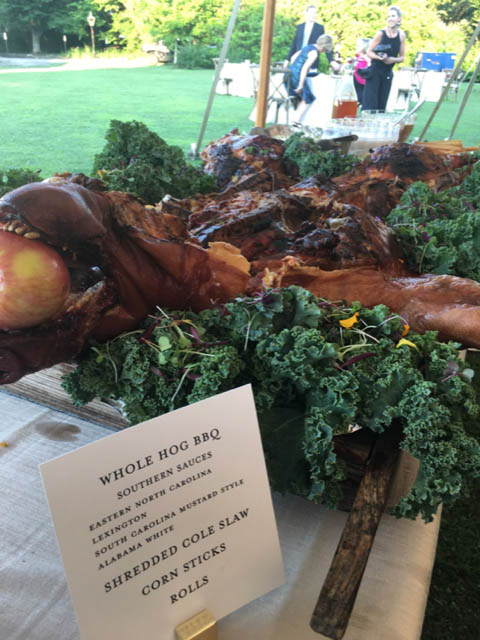 Whole Chef-Attended Barbequed Hog
Plated Meal
A plated meal is the most formal of the options and requires more planning. Couples can offer meal choices to their guests on RSVP cards included with the invitation or serve the same option to all guests. Another option for a plated meal is an entrée duo, with two smaller protein portions with sides, alleviating a choice for the guests. This selection alleviates some planning for event host and provides guests with more variety on the plate. Often times, when plated meals are served, guests are assigned seats or tables with place cards displayed at each. A plated meal allows service from the staff so that the guests can enjoy the meal while seated at a table.
Plated Meal Menu Examples:
Kale & Mixed Green Salad with Salt Roasted Beets, Crisp Apple, Golden Raisins, Candied Pecans, Blue Cheese, and Maple Cider Vinaigrette; Grilled Salmon with Mango Salsa, Flat Iron Steak with Chimichurri, Flash Fried Brussel Sprouts with Pecorino Romano and Gouda Mashed Potatoes; Petit Filet with Wild Mushroom Demi-Glace, Creamy Mashed Potatoes, Roasted Broccolini, with a Local Microgreen Garnish
There is a lot to consider when deciding how you will serve the food at your reception – number of guests, time of day, venue and budget! But don't worry, Scarborough Fare Catering is here to help. We specialize in events from Raleigh to the beautiful North Carolina Coast. We work with couples, or host to determine priorities and discuss what each serving style has to offer. Once couples know how they want to serve their food, we get to the fun part, planning the menu! Contact us today!
Article Provided By: Allison Thomas
---