To say the least, it's been quite a year for all of us! While this Christmas season may look a little different for many people, including my own family, we look forward to taking this opportunity to create new traditions. One of our favorite things about this time of year is reminiscing, and of course all the great food, so we thought we would share some of our favorite holiday traditions and treats with you all.
"Growing up in a family that owned grocery stores, I always eagerly awaited the first sign of the holiday season. Massive displays of chocolate dipped peanuts, nuts in their shells, dried and candied fruits, beautiful candies, and fruit baskets greeted guests upon entry of the grocery store. I watched my mom spend hours utilizing the candied fruits and nuts to make a cherished passed down recipe for fruitcake cookies. Oh, I always enjoyed the smell of these cookies, pan after pan from the oven, but my appreciation stopped there. I never liked the taste until I grew older, and now can truly appreciate these gem-studded holiday cookies. Now that I have children of my own and the grocery business has been traded in for a catering company, my children eagerly await peanut butter balls. These goodies along with turkey hash over rice (my father grew up in South Carolina where rice is king), are tradition on Christmas morning. Oh, and let's not forget the eggnog! Ours is amazing and has cognac, bourbon, and rum. Scarborough Fare eggnog should be on everyone's Christmas list!"
Allison T.
"My holiday traditions usually include avoiding doing any cooking. Between our parents, Allison and Justin, everyone is always well feed. One of my favorite Christmas traditions is going shopping with my dad each Christmas Eve and buying the best presents ever! Dad always taught us to be big givers. I've seen how this carries over to Scarborough Fare too! We always give the best to our clients."
-Candace G.
"My family Christmas traditions are centered around my mom's Italian roots, from her homemade biscotti to our Christmas Eve Feast. Our feast starts with a smorgasbord of appetizers including her famous homemade sausage bread; making it incredibly difficult to stay hungry for dinner. Our Italian Christmas Eve dinner will always include fresh fish, clams, and fried calamari that is served with my great-great grandma's spaghetti recipe; and if that isn't enough there is Italian sausage, meatballs, bread and Caesar salad. As soon as we finish dinner, here comes Mom pulling out her millions of Christmas cookies – my favorite part! When I sit and look around the dinner table, I truly feel the Christmas Spirit."
-Nicole P.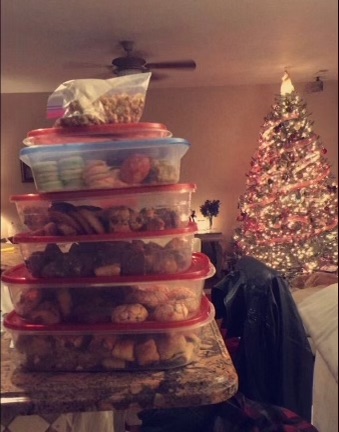 "A few things will be different this year for my family. My twin sister Erinn (a former Scarborough Fare employee) will be working on the COVID-positive floor both Christmas Eve and Christmas Day. We will be celebrating our Christmas on the 26th as a family to try to keep traditions alive. We always start Christmas Day with a breakfast casserole and mimosas in matching Christmas pajamas, which is progressively harder with a 30-year-old brother (also a former Scarborough Fare employee) then once gifts are unwrapped, we always make a Christmas cookie tray filled with cookies from recipes that date back in our family well over 80 years, to graze throughout the day. With myself and both siblings having worked for Allison and Justin for over 8 years combined, you could say great food, drinks and desserts are expected for the holiday!"
-Lauren R.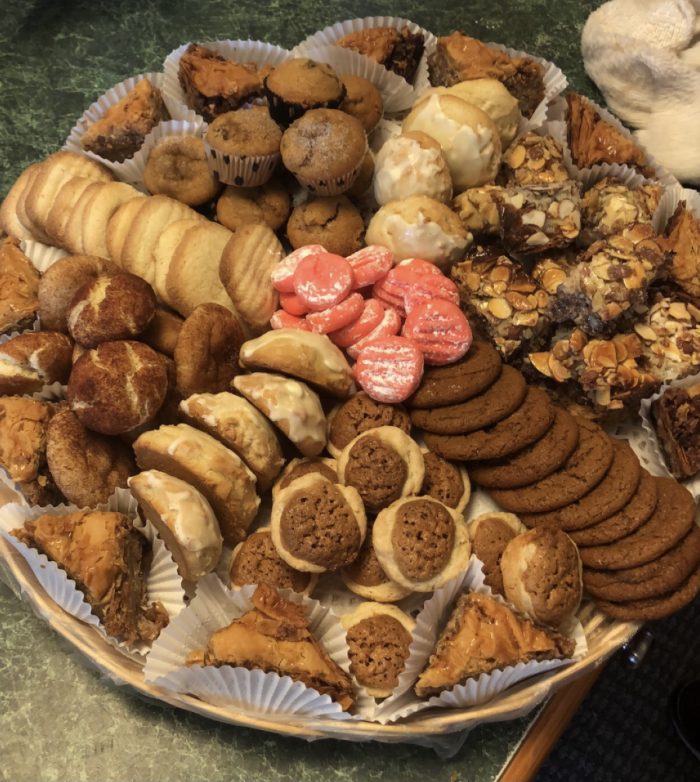 "P.S. Lauren and her mom are both fantastic cooks! She delivered their famous Lady Locks and Mushroom Meringues to us after Thanksgiving. This is another one of their traditions!"
-Allison T.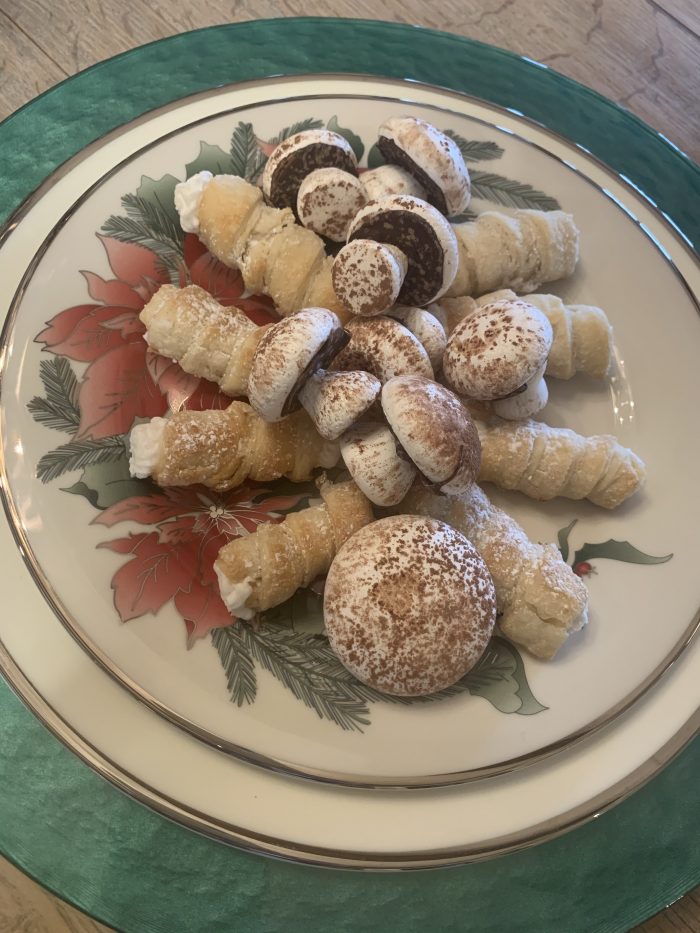 "I love the Christmas holidays because it gives me an opportunity to unwind and spend time with my family while celebrating the birth of our Savior. Of course, I love the lights, the decorations, and all the yummy food; but my favorite tradition is our Christmas night dessert. We have a treat my family calls "ice-cream balls." It's coffee ice cream rolled in coconut macaroons and drizzled with a warm chocolate sauce. I look forward to this treat all year long!"
-Miller A.
We hope that this Christmas you will take a moment to enjoy the little things. Create new memories and traditions, and relish in the time you get to spend with loved ones. From our Scarborough Fare Catering family to yours, we wish you a Merry Christmas and a Happy New Year!
Article Provided By: Allison Thomas
---